Home
Dr. Wax
Products and Services
Simulators
Headquarters
Contact

Courses
Asphaltene Deposition Study
An Asphaltene Deposition Study's purpose is to determine the asphaltene deposition rate during oil and gas production in well tubings. The asphaltene deposition rate from the fluid is first determined using existing field data from a field well. Then, the determined asphaltene deposition rate of the well is simulated in order to tune AsphWax's asphaltene deposition simulator, i.e., the WELLModelR (if field-specific data are not available, the simulation is done a priori using data from other fields). The asphaltene deposition rate of other wells in the field is simulated next with the tuned WELLModelR. The asphaltene deposition rate is utilized to evaluate the need for well interventions and chemical treatments.
An Asphaltene Deposition Study is a continuation of the Asphaltene Phase Behavior Study and it involves a sequence of tests and computer simulation leading to the determination of the asphaltene deposition rate in tubings. The flowcharts below give a summary of the steps required to:
Obtain representative bottom-hole fluid samples
Perform PARA (Paraffin-Aromatic-Resin-Asphaltene) Analysis, PVT Study, and Flow Assurance Diagnostic Study
Develop a PVT-tuned PARA EOS fluid characterization
Simulate the fluid's P-T Diagram
Tune the asphaltene phase behavior model
Prepare input file to the asphaltene deposition simulator using well completion data
Tune asphaltene deposition simulator to the lab data and field data
Simulate asphaltene deposition in various well tubings of the field.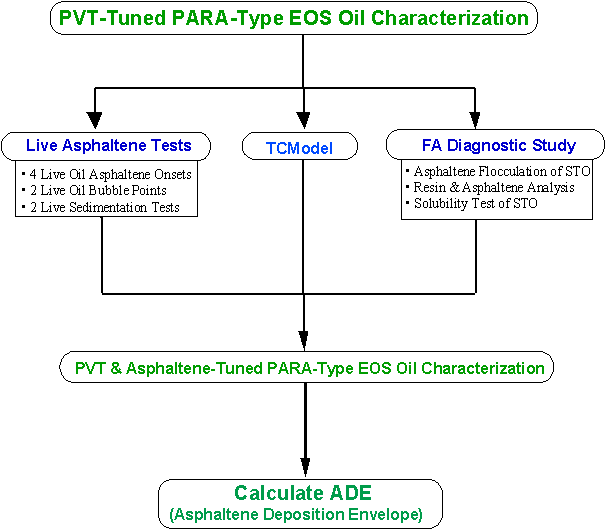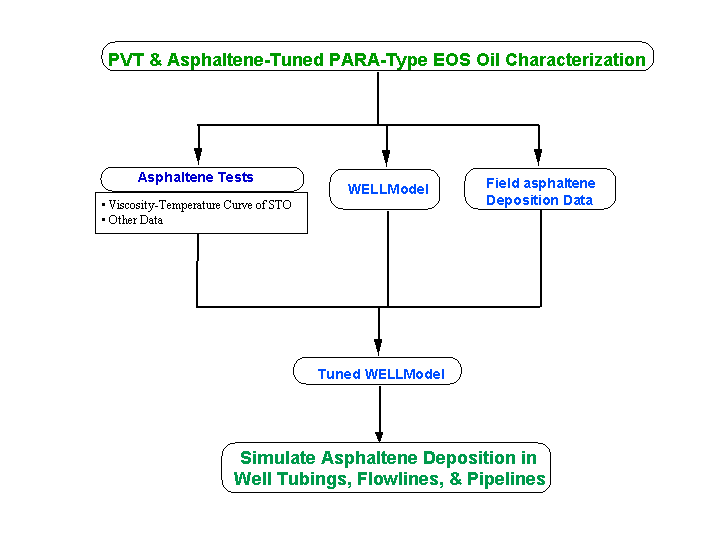 Return to Studies